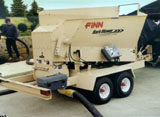 When you rent a bark blower from us you can be assured that it is ready to work.
Our hoses are pressure tested before you take them.
Our remotes are tested for correct operation and proper distance
The equipment will be equipped with more than one battery.
Our fluids are changed
the machine is greased
tires are checked
all appropriate adjustments have been made.
We understand that if the equipment fails to operate correctly while in your possession we will lose you as a returning customer. This is not an option for our company.